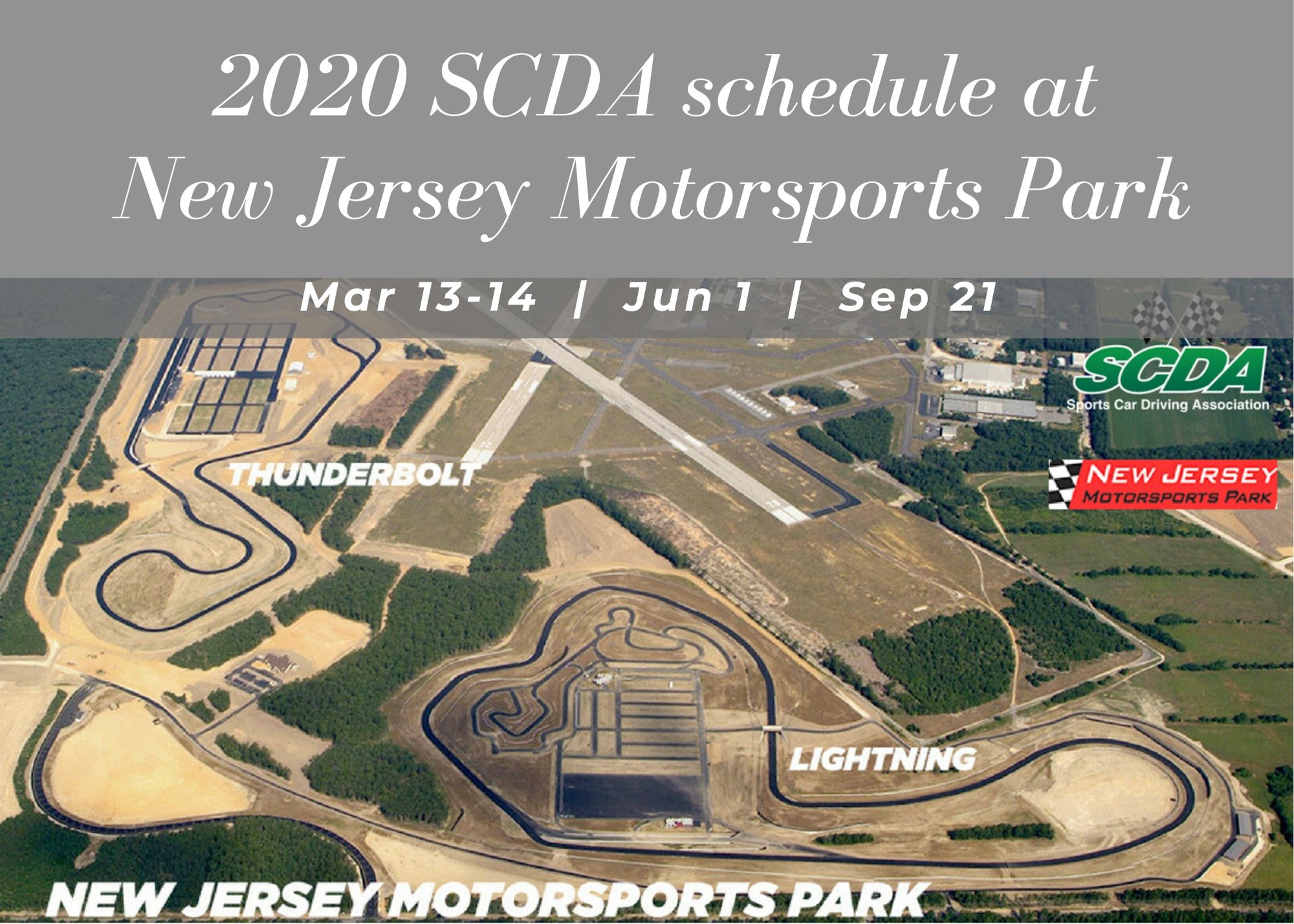 The Sports Car Driving Association to Visit New Jersey Motorsports Park with New Dates and Formats in 2020.
Huntington, CT – November 7, 2019
The Sports Car Driving Association will make three different visits to the New Jersey Motorsports Park in 2020. The first date of the year for NJMP will feature an all new format on March 13 and 14. The March date will provide experienced drivers with an extraordinary amount of track time on both the Thunderbolt and Lightning Circuits. Both days will be half days and suit the schedule of drivers throughout the Northeast.  March 13th will feature a half day from 1:00pm to 5:00pm on the Thunderbolt course.  On the following day, March 14th, drivers will move to the Lightning track for a morning event from 9:00am to 1:00pm. The event is open to experienced drivers only (Intermediate 1, 2, and Advanced).
Later in the 2020 season the SCDA will return to NJMP on June 1st running on Thunderbolt and September 21st on Lightning. These events will be open to all experience level drivers.  Both circuits are popular with drivers, have extremely smooth surfaces and premium facilities including paved paddock, covered garages and a race shop on site. Drivers can stay at a number of hotels in the area and the drive is easy from the metro New York area.
Situated in the heart of the Mid-Atlantic Region, within easy driving distance from New York City, Philadelphia and Washington, DC. sits New Jersey Motorsports Park. NJMP is one of the most unique and dynamic motorsport parks in the country. This premium complex features the technical 2.25 mile Thunderbolt Raceway. NJMP also offers the high speed 1.9 mile road circuit known as Lightning Raceway. It should be noted that these tracks are not variations of one big track, they are completely independent of each other and equally fast and thrilling!
2020 Will represent the SCDA's 25th year of introducing new drivers to the sport and making a place where experienced drivers can continue to improve their craft.
Founded in 1995, the Sports Car Driving Association (SCDA) provides the driving enthusiasts the opportunity to experience high performance driving in a safe and controlled environment. SCDA events are strictly driver educational events, and are non-competitive. SCDA welcomes everyone from novices with no track experience, as well as seasoned track drivers. We invite you to explore our www.SCDA1.com website to learn more about us and our events at some of the best tracks in the East Coast.