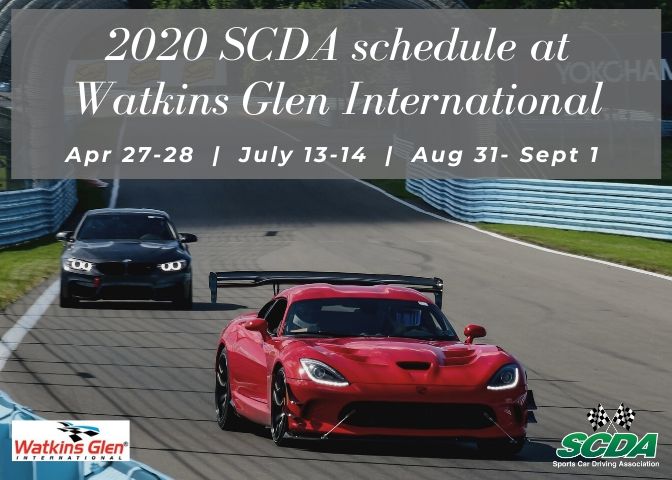 For 2020, the Sports Car Driving Association Adds a Third Date at Watkins Glen International,
Plans to use Long and Short Course in April Event.
October 31, 2019
The Sports Car Driving Association will add a third event at historic Watkins Glen International next year. August 31st and September 1st will appear on the 2020 calendar, along with April 27-28 and July 13-14.  All three events are 2-days and provide ample track time to experience the 3.4-mile world-class road course in Central New York, as well as a special event on April 28th.
The April 27/28 dates will feature a special format. On Monday, April 27th drivers will be using the 3.4 mile 12-turn Long Course as used by most driving groups. Tuesday, April 28th will give drivers a rare opportunity to drive the 2.4 mile, 7-turn, high speed Short Course (NASCAR course.) 
The early (July 13-14) and late (August 31- September 1st) Summer events are the perfect time for enjoying the Finger Lakes region's wineries, state parks and gorgeous Seneca Lake. SCDA two-day events offer a special chance to spend time with fellow drivers and explore other area attractions. Many drivers enjoy the new Harbor Hotel in downtown Watkins Glen, and the SCDA has arranged for camping at the racetrack. Other attractions include the Corning Glass Museum, the Racing Research Center museum and the epic walk in Watkins Glen State Park.
Watkins Glen, located at the southern tip of Lake Seneca in Watkins Glen, New York, is one of the premier permanent road courses in North America. This first class 3.4 mile facility hosted the United States Grand Prix for many years, and now the track is one of two road courses that NASCAR Sprint Cup races on. This is the same track that drivers from Jeff Gordon to Jackie Stewart have driven on!
2020 Will represent the SCDA's 25th year of introducing new drivers to the sport and making a place where experienced drivers can continue to improve their craft. 
Founded in 1995, the Sports Car Driving Association (SCDA) provides the driving enthusiasts the opportunity to experience high performance driving in a safe and controlled environment. SCDA events are strictly driver educational events, and are non-competitive. SCDA welcomes everyone from novices with no track experience, as well as seasoned track drivers. We invite you to explore our www.SCDA1.com website to learn more about us and our events at some of the best tracks in the East Coast.